Adrenaline
This tabletop roleplaying game allows for high action games in a modern or near future world. It uses the Forged in the Dark system based on John Harper's Blades in the Dark RPG.

THE GAME
Danny Ocean? Ethan Hunt? Evelyn Salt? Dominic Toretto? They have nothing on you. Style, stealth and speed - you and your crew have it in spades.
Adrenaline is a game about a group of thrill-seeking characters in a close-knit crew who swindle, steal, and shoot their way to infamy and fortune - or die trying. The game takes place in a fictional setting that looks just like our modern world.
Adrenaline provides optional rules for cyber, bio, and pharmaceutical augmentations that allow the game to be played in the modern day or in a near future / cyberpunk setting.
Complete:
The core book and resources files with playbooks, crew sheets, Miami setting, and GM resources. The core book also includes appendices for adding the supernatural and an immersive virtual reality setting.
NPC Business Cards (print using Avery 5173 cards).
In Development
Descriptions for more than 30 cities, the Pacific Arcology, and an orbiting space hotel.
A custom deck of playing cards that can be used as an operations generator and during play to determine obstacles on the fly and to add suspense for actions that break operational security.
A series of props that can be used during game play.
---

EXAMPLE CHARACTER SHEET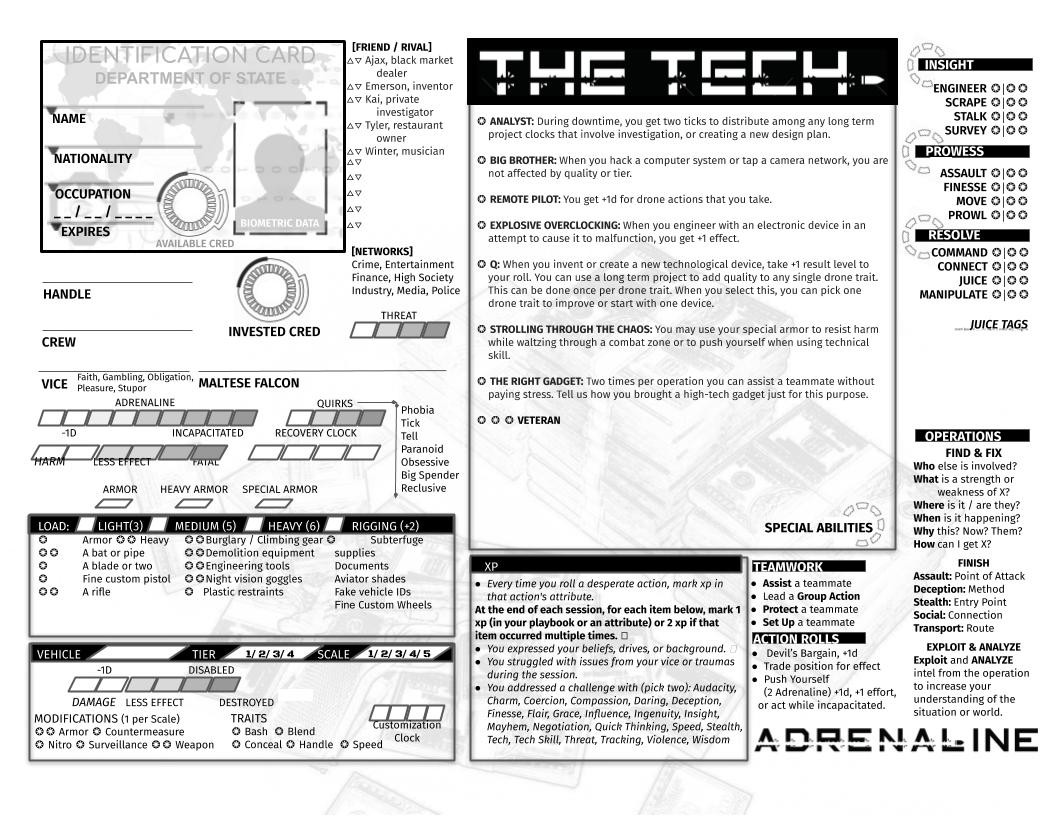 Players build characters with unique attributes and skills by selecting one of eight playbooks.
Fixer: A planner and manipulator.
Driver: If it moves, you can drive it.
Hitter: Sometimes a knife or gun really is the best tool.
Player: A master of seduction, confidence and disguise.
Techie: All the world loves a geek.
Operator: Surveillance, sniping, and sabotage.
Thief: All security systems have a weakness. You find it.
Trickster: You trade in deception, sleight of hand, and misdirection.
EXAMPLE CREW SHEET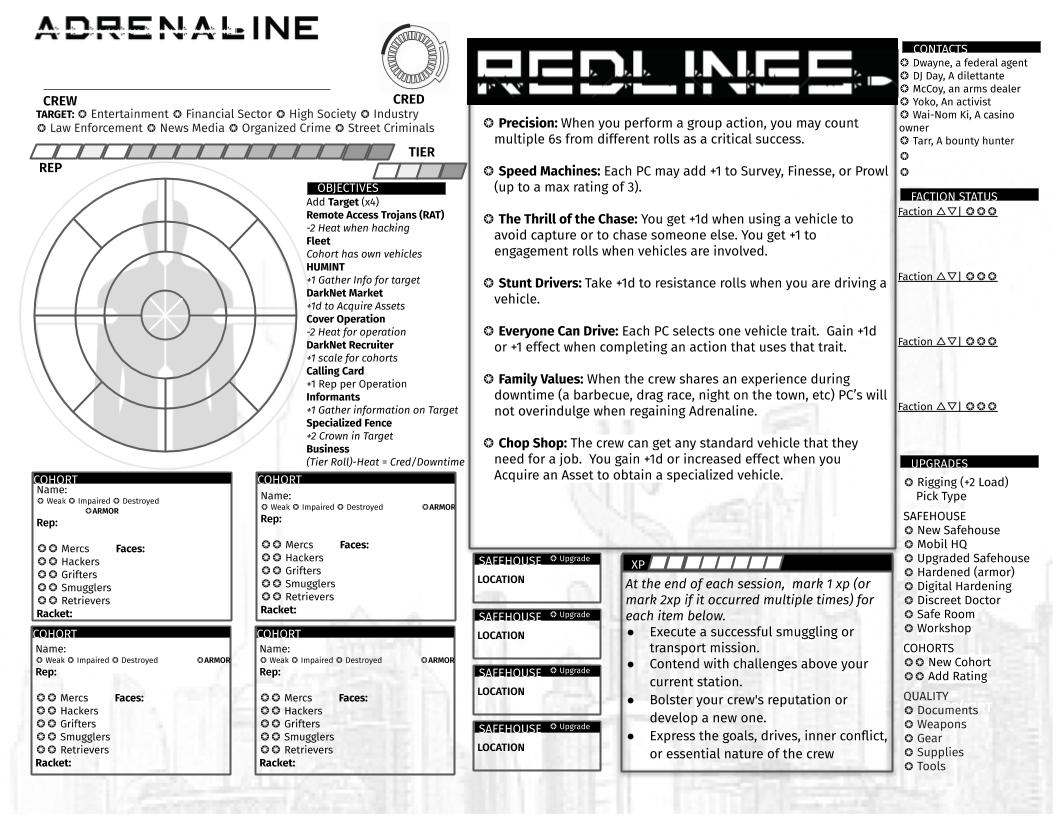 The players also build a crew. The crew provides a reason for the characters to stick together. Each crew type leads to a very different style of play.
Disposable Heroes: Elite mercenaries that make problems disappear, usually by violent means.
Redlines: They drive fast and furious while getting in to all sorts of trouble.
Scoundrels: Socialites, troublemakers or wanderers. Scoundrels live for the thrill and the party that follows.
Purchase
In order to download this game you must purchase it at or above the minimum price of $15 USD. You will get access to the following files:
NPC Business Cards final.pdf
137 kB
Adrenaline full.pdf
39 MB
Adrenaline Resources.pdf
5 MB
Medium Adrenaline Playbook.pdf
1 MB